---
23 March 2021
Regina de Miguel and Pilar Soler «embark upon a stellar voyage» guided by a text that accompanies Regina´s latest work, Nerve bushes like coral forests, interrupted with stories and images, bouncing from one thought to another. Both, together with Alba Pagán as narrator and the soundtrack by Lucrecia Dalt and Camille Mandoki.
Pilar Soler [b. 1980, Madrid, Spain] is an art historian and independent curator. Her research focuses on fantasy, utopia, imagination, radical subjectivity and its implications as an aesthetic category and means of resistance.
She co-directed the Rojo Máquina art venue in Madrid from 2006 to 2009. Pilar has curated various projects and exhibitions, including The Electric Eye at La Casa Encendida, Madrid, in 2019, and The Invisible File at the FelipaManuela Research Residency Centre in 2021. She has also coordinated and directed programmes at different institutions, such as La Sala Verde at the contemporary art centre Carpe Diem Arte e Pesquisa in Lisbon, the Chimenea programme at La Casa Encendida in Madrid, and the curatorial residencies Tabacalera Estancias organised by the Spanish Ministry of Culture.
Alba Pagán [b. 1990, Breña Baja, Spain] studied Literature in Barcelona and Paris. She has a master degree in Theater Studies and she is now fully devoted to literary and essay translation.
Lucrecia Dalt [b. 1980, Pereira, Colombia] is a musician, sound artist and composer based in Berlin. In her work, she often seeks inspiration in the worlds of fiction, poetry, geology and desire, excavating nuanced references to untangle and respond to in her music. At times, this exploratory impulse surfaces like an introspective call and response experiment with her source material. Her sound work has been presented internationally in spaces such as Haus der Kulturen der Welt in Berlin, Issue Project Room and Pioneer Works in New York, Museum of Modern Art in Medellín, the Mies van der Rohe pavilion in Barcelona, among others.
Camille Mandoki [b. 1992, México] is a composer, producer, vocalist and performer. Her palette ranges from stumbling, decaying fairground music to menacing flurries of percussion; on her 2016 debut album, We Used to Talk for Hours, Mandoki used her voice as an instrument of choral beauty, but over the next two years began to bend it into warped shapes on cuts like Priscilla Drums and Failure [Sound of an Animal]. Confrontational in both modes, Mandoki's drive to push the outer limits of her vocals can be reminiscent of Diamanda Galás and Lydia Lunch, though as a performer, her work is entirely unique.
---
Regina de Miguel
b. 1977, Málaga, Spain.
"My work tries to create a subjective vantage point from which to stage a resistance and challenge the notion of truth as an absolute."
"Certainly, I have a special interest in the invisible, in certain types of physical and psychic phenomena that resist being studied or observed but which exert a decisive force on our relationships."
Bea Espejo's interview for
EL CULTURAL
14.09.2012
The search for knowledge, questioning the constructs of truth and "disrupting utilitarian logics", has led Regina de Miguel to compose speculative fictions, crafting unexpected, multiple hybrids in diverse formats inspired by science, cinema, literature, the remote or the hidden, by history or imagining futures.
Challenging certainties and making the invisible visible, she explores violence directed at bodies and at the earth. She likes practising cartography, not as a compilation of data but as an exercise in emotions and poetic visions, creating maps that shed light on the stories manufactured by the powers-that-be to safeguard their interests.
In A fictional machine capable of superluminal communication, Regina shares her imagery in a kind of digital notebook where she has been making almost daily entries since 2012, a compilation of images, texts, drawings and quotes that inspire and fuel her work.
We invite you to explore that imagery on her website, in the special episode of the TV show Metrópolis, recorded on the occasion of her exhibition at the C3A in Córdoba, and in her interview for the Mexican magazine Código.
Click on the images!
Metrópolis | Regina de Miguel
rtve
Diciembre 2018
Esto es Charco. Interview with Regina de Miguel y Sergio Prego.
Revista CÓDIGO
June 2018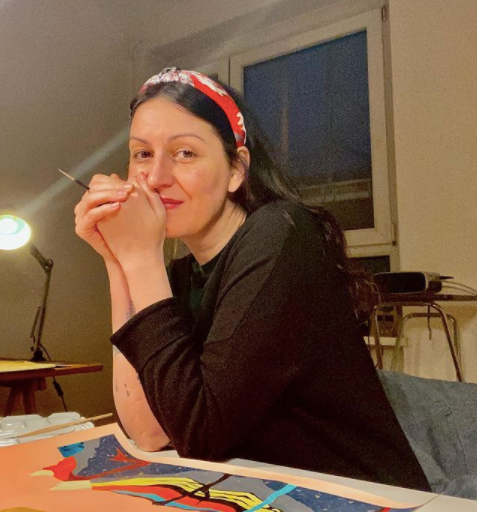 Regina de Miguel
more…
---
---
Actividad realizada con el apoyo del Ministerio de Cultura y Deporte.
Developed with the support of the Spanish Ministry of Culture and Sport.